About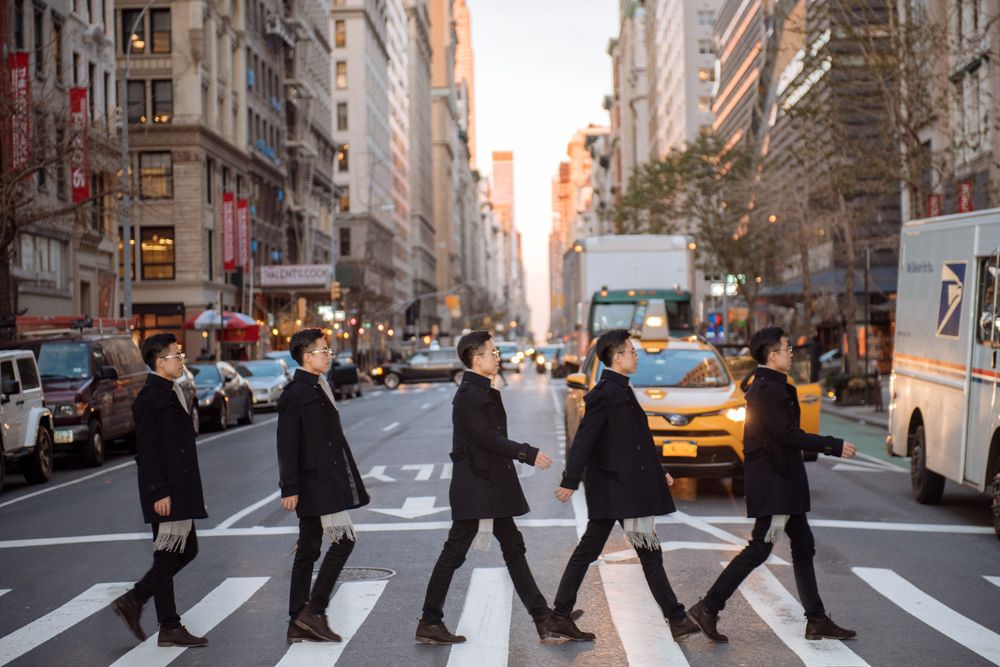 Yifan Guo is a composer, conductor and multi-media artist whose works are inspired by Eastern/Western music, painting, architecture, literature and philosophy from various eras. His work has been lauded by the Morning Sentinel as "(Guo's music) like Whitman... a sound that continues onto another sound and they form poetry, in essence..." His works include solo, chamber, orchestral and electroacoustic music, music theater, incidental music for film, animation and dance, and sound installation.  
As a composer, Yifan Guo's music has been performed world-widely by notable ensembles and musicians such as the JACK Quartet, Arditti Quartet, Quatuor Diotima, Ensemble l'Itinéraire, PinkNoise Ensemble, Ensemble Paramaribo, soprano Tony Arnold, violin virtuoso Alexandra Greffin-Klein, AMF Orchestra, International Chamber Orchestra of America, Guangzhou Symphony Orchestra, Mannes Chorus, and many others. His music has graced the stages of David Geffen Hall of Lincoln Center, Carnegie Hall, National Sawdust, Jordan Hall, Château de Fontainebleau, Le Domaine Forget de Charlevoix, Guangzhou Xinghai Concert Hall, and the Guangzhou Opera House.
As a conductor, Yifan Guo has led numerous chamber ensembles and orchestras to perform in the United States, Europe and Asia, including Mannes Orchestra, Mannes Chorus, String Orchestra of Guangzhou Symphony Orchestra, Alinéa Ensemble, and others. Besides conducting classic orchestral repertoire, he is also an interpreter and advocator of contemporary music. Guo has premiered and performed more than 50 new works by existing composers.  
As a multi-media artist, Mr. Guo has worked with visual artists, performance artists, architects, film directors, choreographers, and computer engineers to develop collaborative multi-media art projects and sound art installations.
Yifan Guo was born into an architecture family in Guangzhou, China, in 1995. He started learning piano, guitar and painting when he was a child. He started professional musical training by studying composition at the Middle School Affiliated to Xinghai Conservatory and privately studying orchestral conducting with Mr. Daye Lin. Since then, Guo moved to the United States to further his education and earned a bachelor's degree at the Mannes School of Music (graduate with honor), where he was offered a full scholarship for composition and orchestral conducting, and earned a master's degree at the New England Conservatory of Music. He is currently a visiting scholar at the University of California, San Diego. His composition mentors include Dr. Huang Ruo, Stratis Minakakis, Kaija Saariaho, Jean-Baptiste Barrière, François Paris, Allain Gaussin, and Chaya Czernowin; conducting mentors include Daye Lin and David Hayes. Additionally, Mr. Guo has given lectures in composition at South China Normal University, the Middle School Affiliated to Xinghai Conservatory and Guangzhou DaoHe Institute.
郭艺帆,旅美作曲家、指挥家、多媒体艺术家,其作品贯穿东西方文化思想,并且融合吸收多个时期与地区的绘画、建筑、文学、哲学为灵感从而产生独特的个人艺术语言。他的作品类型广泛,涉及到交响乐、室内乐、电子音乐、交互多媒体剧场、声音装置艺术、舞蹈配乐、影视配乐。美国缅因晨报形容他的室内乐《百味图》为"有着像诗人沃尔特·惠特曼般的意境","充满诗意的音乐";前法国蓬皮杜音乐&声学研究所(IRCAM)总监Jean-Baptiste Barrière称其音乐"充满活力和想象力"。
作为作曲家,其作品多次被世界著名团体及艺术家上演,包括the JACK Quartet(美国)、Arditti Quartet(英国)、Quatuor Diotima(法国)、Ensemble l'itinéraire (法国)、PinkNoise Ensemble(美国)、Alinéa Ensemble(美国)、Ensemble Paramiabo(加拿大)、Vertixe Sonora Ensemble(西班牙)、Tony Arnold(格莱美提名女高音)、Alexandra Greffin-Klei(ARD大赛获奖者)、大西洋音乐节交响乐团、美国国际室内乐团、曼尼斯交响乐团、曼尼斯合唱团、和纽约爱乐、波士顿交响乐团、休斯顿交响乐团成员等。其作品多次上演于纽约林肯表演艺术中心、纽约卡内基音乐厅、National Sawdust、波士顿乔丹音乐厅、法国枫丹白露宫、加拿大Le Domaine Forget de Charlevoix、广州星海音乐厅、曼尼斯音乐学院、朱莉亚音乐学院、新英格兰音乐学院、柯蒂斯音乐学院、巴德学院、帕森斯设计学院、纽约视觉学院、天普大学等。作为指挥家,郭艺帆致力于支持与演绎当代古典音乐,并曾率领众多乐团首演来自世界各地作曲家的作品。作为多媒体艺术家,他曾多次与视觉艺术家,行为艺术家,建筑师,导演,舞蹈家,电子工程师合作多媒体艺术作品。 
郭艺帆1995年出生于广州建筑世家,自幼学习音乐。16岁进入星海音乐学院附中学习作曲,之后跟随著名指挥家林大叶先生学习管弦乐指挥。2015年赴美留学,先后就读于纽约曼尼斯音乐学院和新英格兰音乐学院并获得学士和硕士学位。现为加州大学圣地亚哥分校访问学者。留学期间,他曾获得作曲和指挥双专业全额奖学金、荣誉毕业生、The Carl Schachter Award杰出学术奖等荣誉,并曾担任乐理和申克分析法助教。2018年夏天获法国枫丹白露艺术学院全额奖学金并前往学习,在其期间创作的多媒体交互装置作品获得Marion Tournon Branly奖。郭艺帆投入了大量的时间和精力钻研作曲和指挥,并获得了黄若、林大叶、梁雷、Stratis Minakakis、John Mallia、Marcos Balter、Kaija Saariaho、Jean-Baptiste Barrière、François Paris、Allain Gaussin、Chaya Czernowin等多位大师的指导。他曾受邀四川音乐学院、华南师范大学、星海音乐学院附中等艺术院校和机构开展讲座。